Lower Camp : Entering Pre-K to Entering 2nd Grade
Parparim – "Butterflies" (entering Pre-K and K)
Tsabim – "Turtles" (entering 1st Grade)
Dubim – "Bears" (entering 2nd Grade)
Our Lower Campers experience a wide range of activities that are developmentally adapted for learning and growing. Our Lower Camp groups consist of approximately 15 campers with 3-5 counselors who are college age and up. Activities are led by specialists with exceptional experience in the area of instruction and are supported by our general counselors. This includes activities such as sports, karate, ropes adventure course, nature and exploration, dance, cooking, yoga, arts and crafts, ceramics and so much more!
A SAMPLE DAY AT CAMP: 
Campers participate in 6 activity periods daily, 1 of which they get to choose themselves!
Morning Assembly: Boker Tov
As campers arrive to camp, they are greeted by camp staff and guided to their designated group meeting spot in our assembly area. Attendance is taken and counselors set the stage for the day. Boker Tov is spent listening to Camp Songs and getting ready for the special day ahead.  Campers then walk with their counselors to their first period activity!
Creative and Performing Arts
Drama, Song Sessions with Jewish Song leaders, Yoga, and Israeli Dance (Rikud)
Our campers have the opportunity to explore both performing and creative arts through a wide variety of arts activities. From drama, yoga, dance and movement, to traditional camp crafts, the opportunities for creative development are infused with nature and exploration of our incredible campus. Arts activities are led by specialists with specific training and expertise in their area and supported by our camp counselors.
Instructional Swim & Free Swim (Swim Everyday) 
All of our campers participate in an American Red Cross Certified swim lesson daily. All campers are tested and placed in an appropriate swim group based on their skill level. Our lessons are taught by WSI certified lifeguards and supported by our camp counselors, ensuring growth and development in swim skills. We have two large pools to allow for plenty of space for our swim groups to separate and cater to every group's needs.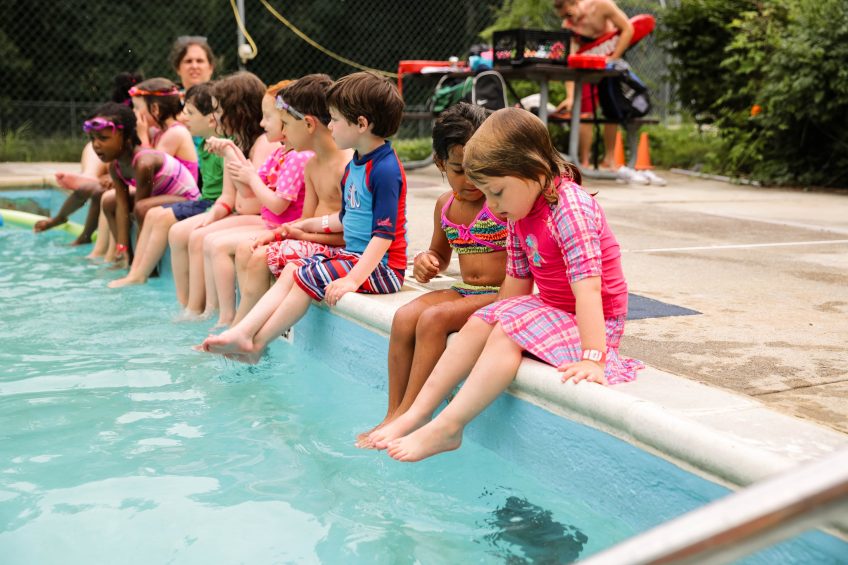 Sports
Karate, Soccer, Basketball, Tennis, Volleyball, Golf and Much More!
Our campers engage in a variety of sports activities from soccer, to basketball, volleyball, gaga and beyond. Our equipment and instructions are tailored for each age group. Experienced coaches and specialists lead these activity periods with support from our camp counselors to create an inclusive activity period for all campers involved.
Electives
Our younger campers experience wonderful activities best suited for their development.  These include sensory exploration, cooking, clay sculpting and nature. Our older campers get the opportunity to choose electives from the wide range of activities that we offer. During this period, campers will participate in the same activity for the entire week. This gives them the chance to pursue a specific hobby that they enjoy. We have over 20 elective options including creative arts (ceramics, painting or general arts) and performing arts (drama, dance, and singing), adventure (ropes, archery), nature (hiking, fishing), Making a Difference Club (Campers make packages to send to those in need) and so much more.
Lunch Time
Sprout Westchester serves Kosher Hot lunch Monday – Friday.
Free Swim
All of our campers have a period each day where they have free swim! It's a great open free play time! Our lifeguards closely supervise swim areas while our camp counselors play with our campers in the water, ensuring high adult to camper ratios and close monitoring of all swimmers. Campers will stay in shallow water, unless they have demonstrated a specific set of skills proving they can swim in deeper swim areas.
Adventure & Nature
Adventure: 2 Ropes Courses, Low Ropes, and Team Building
Nature: Petting Zoo, Garden & Composting, and Farm to Table with an Israeli Cooking Instructor
Our campers get to experience some of our amazing adventure activities include our petting zoo, boating, fishing, adventure ropes course, and exploring the trails on our 26 Acre Campgrounds!
Ceramics & Sensory Play 
With our new ceramics studio, campers will either participate in sculpting or ceramics on the wheel. This activity is led by a professional ceramist and artist.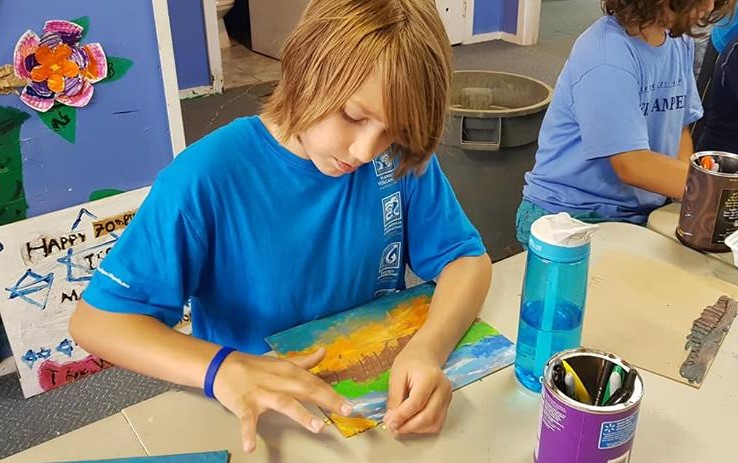 Afternoon Assembly
Campers gather with their group at the end of each day for some reflection and fun camp traditions including performances, singing camp songs, and playing games. Counselors spend time talking with the group about their social and emotional accomplishments.